AGENT GREEN: INVESTIGATE – EXPOSE – POSITIVE CHANGE
Affinity for investigation
The AGENT GREEN association is a non-governmental non-profit organisation dedicated to protecting the environment, founded in 2009 in Romania for the purpose of preserving biodiversity.
The organisation has an affinity for investigating environment crimes, strategically exposing these crimes and promoting solutions for protecting nature and ensuring the well-being of future generations.
AGENT GREEN Victories
2015
January 2015: The Holzindustrie Schweighofer company firmly committed to no longer accept trees from Romania's national parks, after AGENT GREEN exposed deforestations in the Retezat National Park.
2013
January 2013: Following exposure by AGENT GREEN, the Romanian Government decide to sign the Danube Soya declaration, through which farmers are involved in the cultivation of non-genetically modified soy, thus contributing to reducing Europe's dependence on genetically modified soy grown in deforested areas of the Amazon.
May 2013: Monsanto announces that it is withdrawing its applications for commercial cultivation of genetically modified maize.
2011
February 2011: The collaboration between AGENT GREEN and Snack Attack resulted in the marketing of the first range of Bio-certified sandwiches, and all foodstuffs free of genetically modified organisms.
September 2011: Lolaia Waterfall in Retezat National Park was promoted and set up for eco-tourists.
November 2011: The Ministry of Environment decided to stop illegal deforestations (falsely presented as deforestations with the purpose of stopping an attack from Ipidae insects) in Retezat National Park.
2010
March 2010: The Ministry of Environment announces it has initiated the procedures for banning the cultivation of MON810 genetically modified maize.
April 2010: Following the complaint lodged by AGENT GREEN with the European Commission, the institution decided to initiate infringement procedures against Romania for the illegal construction of a wind park and a granite quarry which endangered the nests of the last three pairs of saker falcon (Falco cherrug).

May 2010: AGENT GREEN draws attention to illegal logging in Piatra Craiului National Park and initiates a program for replanting 29 hectares of spruce in completely deforested areas.
July 2010: AGENT GREEN and APNR inaugurate the "Wolves' Way" themed path in Retezat National Park.
August 2010: The Ministry of Environment announces that DN 66A cannot be legally built, following a one-month resistance camp in Retezat National Park
October 2010: The illegal culture of genetically modified soy in Corlăteni, Botoşani county discovered by AGENT GREEN was destroyed.
2009
June 2009: Following the launch of the "Green my Light" campaign, CORA, Metro and Baumaxx committed to comply with the norms regarding the sale of energy-saving light bulbs and the recycling of waste bulbs.
July 2009: Following AGENT GREEN's protest in Retezat Mountains, the Ministry of Environment announced that the works on the national road through these mountains cannot begin, as an environmental impact assessment is due to start.
Iulie 2009: Following exposure by AGENT GREEN of IKEA's non-compliance in the field of energy-saving light bulbs sales and recycling, the company decided to become legal.
July 2009: All the trees in Bucharest were freed from advertisements and signage.
August 2009: The case of contamination by genetically modified soy in Chirnogi, Călăraşi county was stopped.
October 2009: AGENT GREEN brought Canadian farmer Percy Schmeiser, whose field crops were contaminated by genetically modified organisms produced by Monsanto, to Bucharest. Following this exposure, the largest farmers in Romania dropped the cultivation of genetically modified organisms.
November 2009: KIKA and Kaufland committed to comply with the norms regarding the sale of energy-saving light bulbs and the recycling of waste bulbs.
December 2009: The "Fantastic fără Plastic" (Fantastic without Plastic) campaign launched in March 2009 ended after 6 months with the decision of the Ministry of Environment to tax oxo-degradable bags. Initially, the eco-tax did not apply for this bags which are made with additives containing heavy metals that are dangerous for the environment and for human health (carcinogenic, mutagenic, toxic for reproduction).
Financing and partners
AGENT GREEN is financed by non-governmental foundations and private donors, such as: Fundaţia pentru Parteneriat, Grassroots or GEKKO.
Campaigns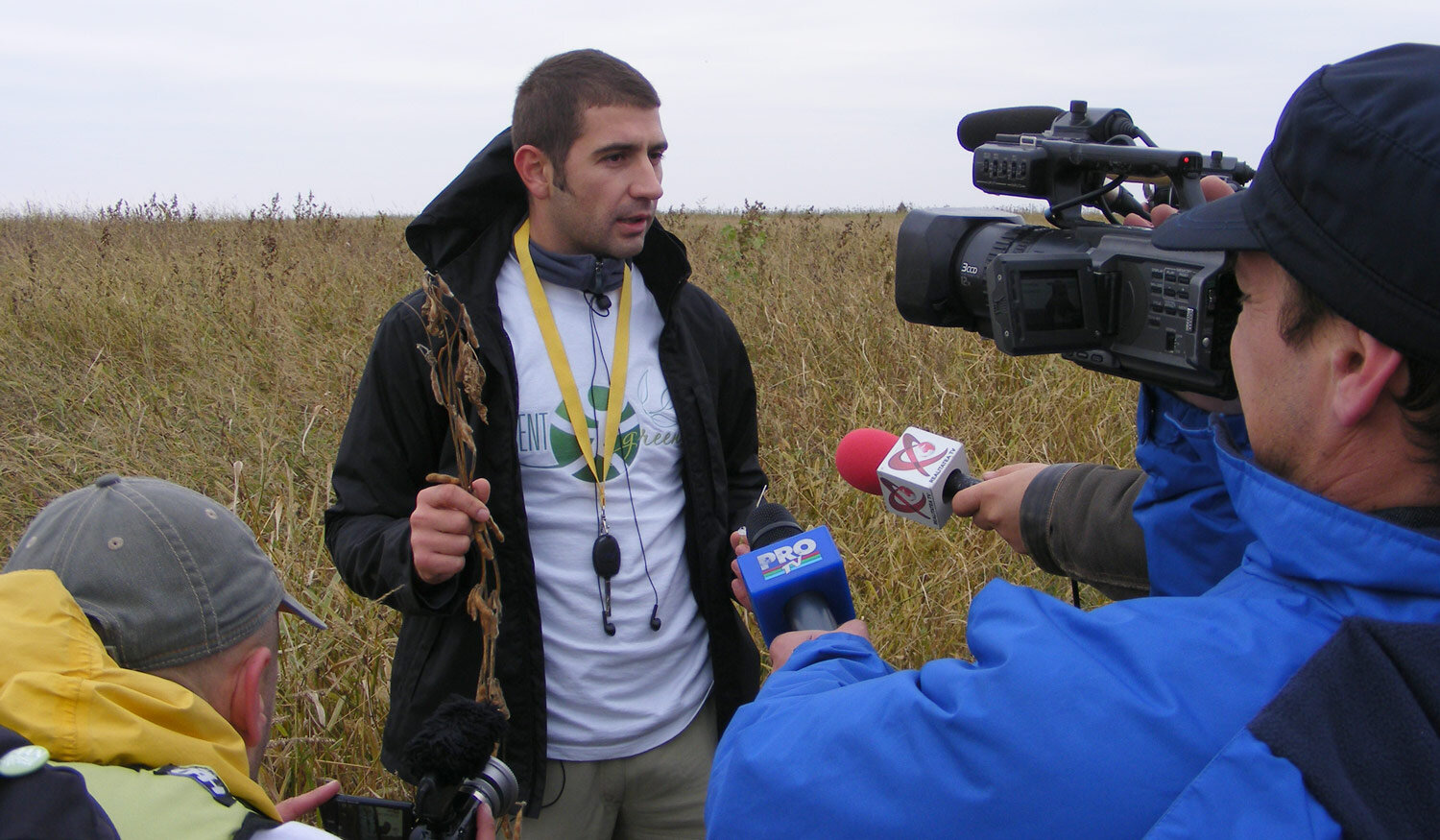 AGENT GREEN focuses its activity on environment issues that can permanently damage biodiversity: the destruction of intact ecosystems, genetically modified organisms, climate change and poisoning the environmental factors (the water, the air, the soil).
Our campaigns are based on complex investigations, which can offer the responsible authorities the proof they need to apply and comply with environmental law or to initiate processes with the purpose of improving the existing legislation. At the same time, the organisation approaches relevant national and international corporations with regard to the implementation of policies and standards which are superior to the existing environmental law.
Destruction of intact ecosystems
Intact ecosystems are shelters for rare and endangered species of plants and animals. That is why AGENT GREEN focuses its efforts to protect national parks, natural parks, natural reservations, virgin forests and the Retezat-Godeanu-Ţarcu Intact Forest Landscape. Our main working manner consists of investigating and exposing forest crimes, mobilizing locals and empowering companies to adopt a sustainable production.
Donations
The cause of climate change is still under discussion. However, its effects are cause for concern. Politicians and corporations still do too little to avoid losing control over the situation in the near future. AGENT GREEN believes that the public also has a great responsibility to adopt a more responsible, more local consumption pattern and more energy-efficient means of travel.
Climate changes
AGENT GREEN may be a small organisation, but results speak for themselves when it comes to using resources in the most efficient way possible. Access the donations page for more information.